Dalilah Gonzalez, Community Outreach Intern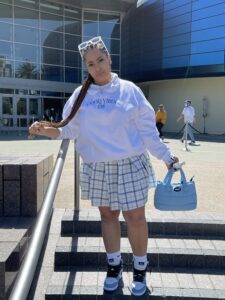 Dalilah (she/her) is a college student at Buffalo State College, who is serving as an intern at PAWS NY for the summer while also working at BJ's Wholesale Club! From Upper Manhattan, Dalilah is more of a dog person, but she also has a turtle named Stitch.
Dalilah spends most of the year at school in Buffalo, where she adopted her first pet, a dog named Couture–and this is where her passion for animals became stronger. Adopting Couture drew her attention to animal welfare and eventually to PAWS NY, where she is excited to bring awareness of PAWS to the community. As Community Outreach Intern, Dalilah has the opportunity to create content for PAWS and connect with partners in the community to expand its reach.
During Dalilah's free time, she loves watching movies during the summer and going to the (indoor) pool in the winter. As for Couture…she loves her midafternoon walks, sniffing everywhere, and greeting everyone.