10th Anniversary Feature | Founder & Executive Director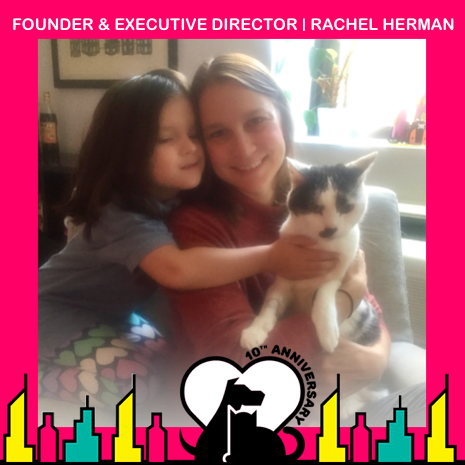 Happy Birthday PAWS NY! Today marks TEN years of helping people and pets in need and we are so excited to celebrate with many of you this evening at our 10th Anniversary Party.
Today's feature is PAWS NY's Founder and Executive Director, Rachel Herman. Rachel first had the idea for PAWS NY in 2008 after walking by a young homeless couple and their dog outside of her local grocery store. As an animal lover, she felt great empathy for this family and began to ask herself the questions that would lead to PAWS NY's founding: "Are there other people in New York City that have pets but struggle to provide adequate care for them? How can I provide more meaningful assistance?" After some research, she recognized that there was a huge need and no organization in New York City to provide for that need. Ultimately, with a Board, our 501(c)(3) certification, and our first group of volunteers, PAWS NY was born. More than a year later, on November 11th, 2009, our first volunteer visited our first client. Since that time, PAWS NY has helped over 900 people and 1,300 animals remain together as a family by providing over 75,000 visits to people in need.
"I truly can't believe it's been ten years. As I reflect on the past decade, I think about all the people who have helped along the way. To say I am in awe of our incredible network of volunteers, friends, and supporters would be an understatement. Ten years ago I never could have imagined just how many kind, generous, and dedicated people I would meet throughout this journey. PAWS NY started out as an idea, and because of our incredible community of New Yorkers, our organization not only exists, it's thriving. I wake up each day so proud of the work we do to help New Yorkers and their pets, and I feel lucky that I get to dedicate my life to something so meaningful. Thank you to every person who has believed in us. I am forever grateful to you for helping to bring our services to people and pets in need."