10th Anniversary Feature | PAWS NY's First Volunteer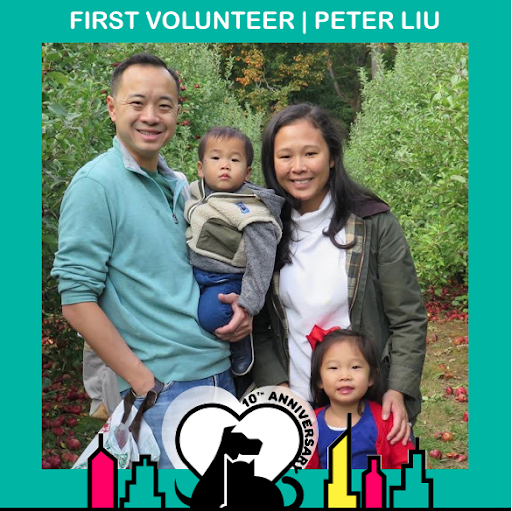 In honor of PAWS NY's 10th anniversary, over the next few weeks we'll be highlighting a handful of the people and organizations who made it possible for PAWS NY to get its start. From our first volunteer, to our first employee, without the help of these amazing people and organizations who believed in PAWS NY, we would not have made it to year one, much less to year ten!⠀
We'll also be celebrating our 10th anniversary with a party on 11/11 at The Fishbowl at Dream Midtown. Click here to learn more and to purchase your tickets today!
Today, we're highlighting our first official volunteer, Peter Liu. After attending our first volunteer orientation in October 2009, Peter performed the first dog walk on behalf of a client on November 11, 2009 and went on to volunteer with several clients over the years.
"When I first heard about PAWS, I thought it was a terrific cause and opportunity to help those people and animals who needed it most.  The organization helped them maintain a special relationship that they truly depended upon, and continue bringing joy to one another.
⠀
I loved seeing the heartwarming relationship between the pets and their owners, how much precious joy they brought to one another especially during difficult times in their lives, and the feeling that I could do a little something to help them maintain that relationship. I loved seeing them every week, the excitement on their faces when I walked in the door and how much they were looking forward to me returning. I could never imagine what life would be like for them apart from one another without an organization like PAWS."
⠀
We are so grateful to Peter for believing in our mission from the very beginning and kicking off our first client visit and walk on 11/11/09. Now ten years later, we look forward to hosting our 10th Anniversary Party on 11/11/19 to celebrate that very first walk and all the subsequent client visits performed by our amazing volunteers, which total upwards of 75,000 visits, 60,000 hours of care, and nearly 900 people and 1,300 animals who have been able to stay together as a result.
Thank you to Peter and our incredible team of past and current volunteers for making this possible!