Janeau: Senior Cat Seeks Fur-Ever Home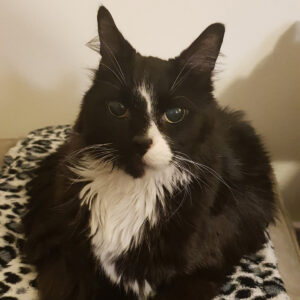 Janeau is a mellow 13-year-old neutered, medium-hair cat whose favorite pastime is lounging in his cat tree! At the beginning of the summer, Janeau's guardian sadly passed away, and we're looking for a fur-ever home for this paws-itively sweet senior cat!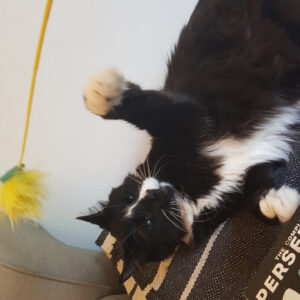 For many years, Janeau lived with a dog, but the two didn't bond too much, and in his foster home, Janeau has shown signs of wanting to maintain boundaries when it comes to the other two cats in the home. We think a home with a very low-key dog or no other pets would be best for him.
Currently in good health, Janeau had thyroid removal surgery about a year and a half ago that eliminated most of his health challenges, and recent blood work showed his levels are looking good. He is on prescription food that helps to keep him on the right track!
Janeau's guardian told PAWS NY many times that she considered her pets her children and that she would do anything for them. While she was in the hospital, she asked PAWS to make sure to find Janeau and his dog sister a great home in the case that she passed away, and we said that we would. We're so grateful to our wonderful foster volunteer who has been providing foster care for her cat, Janeau, and are now ready to find him a forever home!
From Janeau's Foster: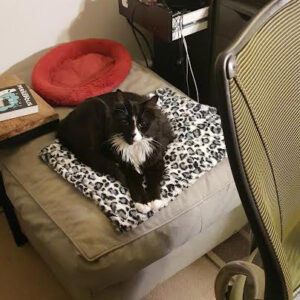 "Janeau has really blossomed over the past two months and grows more playful, loving, and interactive every day! He is a big guy (close to 20lbs) but is gentle and timid. Handsome Janeau takes very good care of his grooming, his toilet habits, and has a healthy appetite for his special 'kidney-friendly' diet.
He is a well-mannered companion who loves being spoken to, enjoys a brush, tolerates the occasional snuggle, and engages in short play sessions in between his naps. Patience and calm would be key with him – he is worth it. He is definitely a special fella."
If you'd like to adopt Janeau, please reach out to [email protected] to complete an adoption application.