Adoptive Home Needed for Sweet and Snuggly Pup!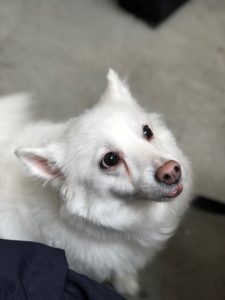 UPDATE 11/12/18 Snowy has found her forever home!  Thank you to everyone who was a part of her journey.  If you would like to help other pups like Snowy remain at home with their guardians, please consider volunteering: 
Volunteer With PAWS NY
This sweet pup, Snowy, needs a forever home! Snowy would be a perfect match for a calm household looking for a snuggly and loyal pup.  She is a 20 lb, 6 year old Mini Eskimo dog.
Snowy is friendly with other dogs – not overly interested but enjoys sniffing them and wagging her tail and has never gotten aggressive or growled / barked at another dog.  She is shy at first around people, especially strangers who try to get too friendly and give her too many pets. But once she warms up to someone, she'll sleep in the bed and follow you around wherever you go!  She's absolutely obsessed with her Lambchop stuffed animal, and will dance on her hind legs when she's ready to go outside!
Snowy has been fostered with both dogs and cats.  She likes her down time so she would do well with another dog who is calm.  She wasn't fast friends with her foster cat siblings, but Snowy was not aggressive towards them at all.
Snowy is fully vaccinated and has seen a vet recently.  She is not spayed, but PAWS NY can arrange for that to be done once she is adopted.
If interested in adopting Snowy, please email Carrie at
[email protected]
for an application.