10th Anniversary Feature | PAWS NY's First Employee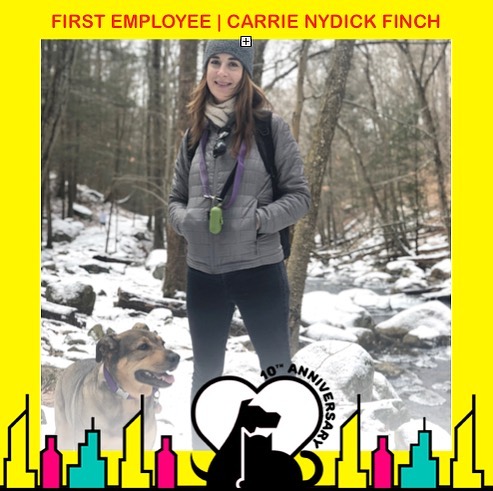 Carrie Nydick Finch is PAWS NY's Program Director and was also the first employee we hired in 2013. Carrie first learned about PAWS NY when she came across the open job posting on Idealist.
"I had been an animal lover and advocate since I was a child. While working as a Clinical Social Worker, I completed a certificate in Animal-Assisted Activities and began looking for a job that would marry my social work training with my passion for animal welfare. It seemed like the perfect fit."
For several years, it was just Carrie and PAWS NY's Founder & Executive Director, Rachel, sharing a small office while building partnerships that have been critical to our success, growing our client and volunteer base, and implementing the strategic programs and services that we provide for clients and pets to this day.
When asked how she feels to be celebrating PAWS NY's 10th Anniversary, Carrie says "It's exciting! I can't believe I've been with PAWS for 6 1/2 years at this point, and it's extraordinary to see how far we've come."
We are so incredibly lucky to have Carrie on our team and would not be where we are without her hard work and dedication. Thank you, Carrie!