PAWS NY Volunteer Spotlight: Denise
Today's Volunteer Spotlight is Denise, who joined the PAWS NY team in July 2020. Denise has been a Vet Transport Rockstar and has helped out Susi, Angel Baby, and Janeau several times over the past year. 
"Pets are more than just companions, they are family," Denise said. "I like the idea of helping clients keep their family close, healthy, and happy." Visit our website to learn more about Denise's dog Jjimbbang (Steam Bun), her crafty hobbies, and her favorite memory with Susi.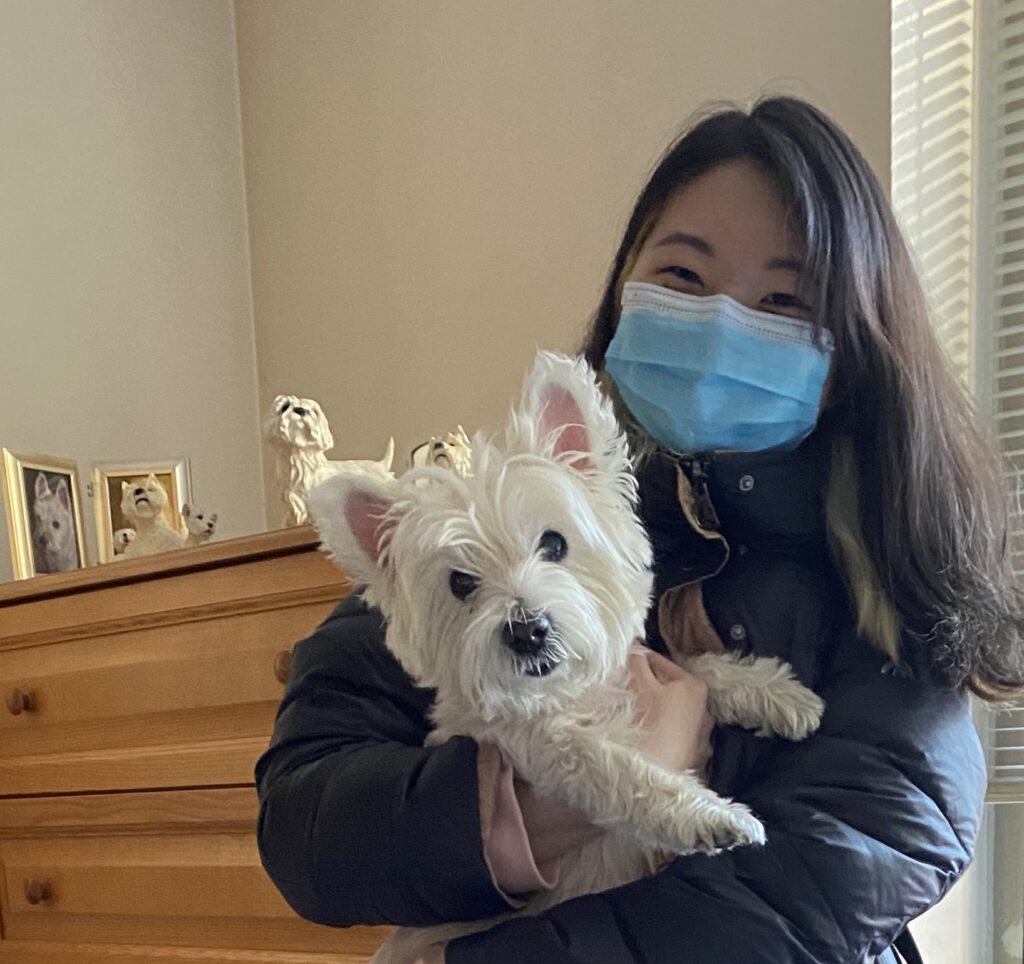 ---
How did you hear about PAWS NY?
I found PAWS NY through a Google search when looking for volunteer opportunities to work with animals.
Why are you passionate about PAWS and our mission of helping people by helping pets?
Pets are more than just companions, they are family. And for some, pets are their only family. I like the idea of helping clients keep their family close, healthy, and happy while interacting with both the client and the pets.
Do you have pets of your own? Or have you in the past? Tell us about them!
I have one dog, Jjimbbang (Steam Bun), age 8, who we adopted when he was 3. My family has a history of adopting pets from other owners who could no longer care for their pets, and I believe we are better for it. Even though we never raised them from birth, they never failed to bring unconditional love and happiness to our home.
What do you do during your volunteer shift? Which clients & pets do you help?
Because of the pandemic, I have only been able to assist in vet transports, and have only worked with two clients. For Susi, and her pets Angel Baby and Janeau, I would take them to Animal Medical Center and back home, and I would play with Angel and keep her company while also interacting with Susi (socially distanced) after her visit to the vet. I have been consistently assisting and keeping in touch throughout my time with PAWS.
What is your favorite part about volunteering with PAWS NY? Do you have any favorite memories?
I love having the opportunity to not only help care for pets, but also interact with the clients themselves, especially during this pandemic. My favorite memory is when Susi called me their mitzvah, which is Hebrew for "gift." It meant the world to me that I could mean so much to someone for doing something so simple. It really goes to show how meaningful the work PAWS NY does really is.
What do you like to do in your spare time (besides volunteer with PAWS NY)?
I make key chains, charms, and various accessories via stitching on plastic canvas. I like to draw; dye and cut my own hair; bake; watch anime, Kdramas, and various genres of shows; and go bouldering with my sister every once in a while.
Share 1-3 fun facts about yourself!
1. I love the feeling of holding and reading used books.
2. I work as a veterinary assistant at an animal hospital.
3. I have a button/pin collection.
---
Thanks to Denise for all your hard work during the pandemic! Read more volunteer spotlights here.