Devery will be traveling from Denver, Colorado, to run the 2022 TCS New York City Marathon on behalf of PAWS NY. She wanted to challenge herself with a full marathon, and NYC will be the perfect time & place for her to do so! Working in the pet industry, Devery knew she wanted to support an animal organization when signing up, and we're so happy to have her on Team PAWS NY for November 6!
Learn more about Devery in her Q&A below, and continue to support her throughout her journey!
---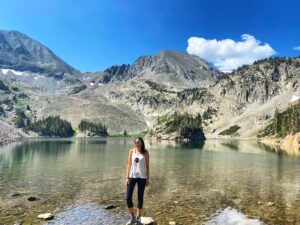 Why did you decide to run the TCS NYC Marathon? Have you participated in long races in the past?
I have done a few half marathons and really wanted to challenge myself to complete a full! I am originally from Connecticut and grew up going into the city often with my dad. The grit and vibrancy of New York makes it the perfect location for my first marathon!
What is your connection to PAWS NY? Why is this cause important to you?
I work in the pet industry and animal welfare has always been a passion of mine. When looking to join a charity for the NYC Marathon, I was immediately drawn to the animal welfare category, especially to PAWS NY.
I have volunteered a few times for a local Colorado organization that is similar, as they feed Colorado pets, allowing families to increase their ability to care for pets with the goal of keeping them out of shelters and with their families. I feel that everyone should be able to experience the love and loyalty from dogs, no matter their financial situation.
Do you have any pets of your own? Did you grow up with pets?
I have a heeler/border collie mix named Finley that I rescued from the Four Corners area. Finley and her siblings were brought to the Denver area for adoption from a Native American reservation. She is the best camping and hiking buddy!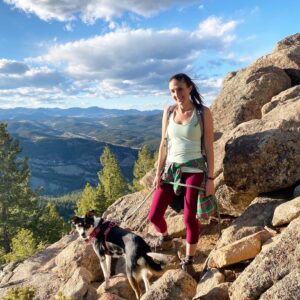 How long have you been running? What are some of your favorite places to run?
My favorite place to run is Wash Park, in Denver. It offers a mix of paved and dirt trails and is filled with beautiful gardens, trees, and lakes.
What do you do in your free time (besides run)?
I love most of the outdoor activities that Colorado offers! On the weekends, you could usually find me hiking a mountain or skiing the slopes.
What are your goals for this race? How can PAWS support you?
I'm honestly just hoping to finish! Here's hoping that training in altitude will help my case 🙂
---
Thanks so much for your support, Devery! We can't wait to watch you crush your first Marathon in November! Click here to support Devery and other members of Team PAWS NY.