Running the NYC Marathon is a true feat, so we're excited to give a shoutout to Bri, who is running this year's TCS New York City Marathon with her husband Peter! From Fillmore, California, Bri ran her first half marathon in 2007 and she has been hooked on running ever since. Read more about Bri in her Q+A below!
---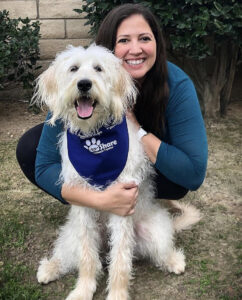 Why did you decide to run the TCS NYC Marathon? Have you participated in long races in the past?
It has been on my race bucket list ever since I began running. It's still so surreal to me that I will be doing it this year!
What is your connection to PAWS NY? Why is this cause important to you?
I find the work that PAWS NY does is so valuable and important. I volunteer at a local shelter in my community and caring for animals has always been a passion of mine.
Do you have any pets of your own? Did you grow up with pets?
Oh yes, I have always had dogs for as long as I can remember. Currently I have 2 sweet dogs (one of whom we lovingly refer to as our foster fail).
How long have you been running? What are some of your favorite places to run?
My first half marathon was in 2007 and I have been running ever since. My speed and distances have fluctuated through age/motherhood, but never my love of the sport! My husband is my #1 running buddy and we run in the mornings together after dropping the kids off at school. We've done several races together and I am so excited he will be running NYC with me!
What do you do in your free time (besides run)?
I have a little Etsy shop with gifts for runners and really enjoy crafting. I am also a die hard Green Bay Packers fan and LOVE watching football.
Share 2-3 fun facts about yourself! What should we know?
I have been a contestant on The Price is Right.

Prior to kids, I was training to be an Opera singer.

The Athens Marathon is the next race on my bucket list!
What are your goals for this race? How can PAWS support you?
My goal is to be trained, run a healthy and enjoyable race, and finish in under 5 hours.
Is there anything else you want to share? Now's the time!
My husband Peter and I are doing the race together and started a TikTok page to track our progress (and help us earn donations)! We are on TikTok and Instagram under @RunMomRunDad.
---
Thanks so much for your support, Bri! We can't wait to watch you and Peter crush it in November! Click here to support Bri and other members of Team PAWS NY.