PAWS NY Volunteer Spotlight: Joanna
PAWS NY will celebrate Volunteer Appreciation Week next month (April 18-24), so as we ramp up to that celebration, we wanted to highlight some of our awesome volunteers with a Volunteer Spotlight. First up is Joanna, a long-time volunteer who will celebrate her 10th anniversary as a volunteer this year!
"Finding something that you're passionate about—in my case, helping animals—makes volunteering even more meaningful," she says.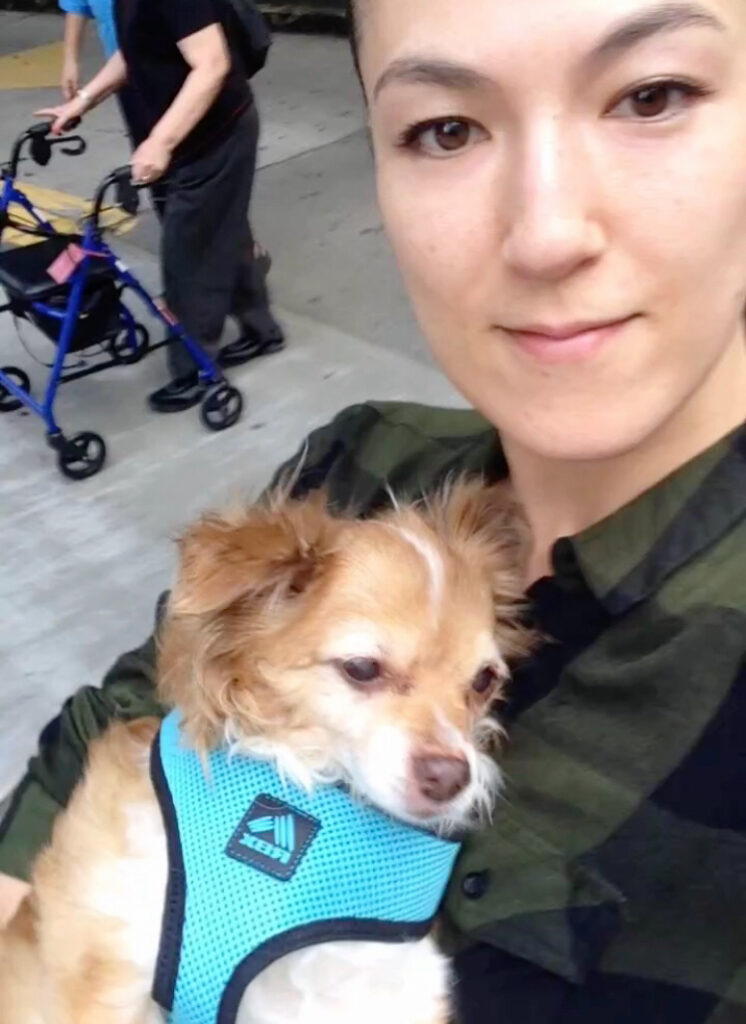 A professional dancer / choreographer / dance educator, Joanna came across PAWS NY during an online search in 2011 and has been helping out since then! She specifically volunteered with Arnold and Jade, a well-loved pair, for many years. Sadly, Arnold passed away in 2018, and Joanna has many fond memories of walking Jade in his bumble-bee costume and more! Read her full Q&A below and let's celebrate Joanna and 10 years of volunteering!
—-
Why are you passionate about PAWS and our mission of helping people by helping pets?
I think volunteering in general is important for everyone, no matter what the cause is. Finding something that you're passionate about—in my case, helping animals—makes volunteering even more meaningful. When I came across the website for PAWS and read the mission statement, "Helping people by helping pets," I knew that was the right match for me! What a beautiful mission.
I know how special the bond between humans and animals can be, and to be able to help both and have a positive impact on their lives is a gift to me. When I began volunteering with PAWS, I was matched up with an elderly man named Arnold and his beloved little chihuahua mix named Jade. Arnold rescued Jade from the shelter after his wife had passed away. Jadey Jade became his best friend and companion for the next 18 years. Arnold would say, "He's the greatest anti-depressant you could ever imagine. He means everything to my life." To know that I helped them stay together by taking care of Jade (along with an awesome team of other volunteers) means so much to me.
Do you have pets of your own? Or have you in the past? Tell us about them!
I have a chihuahua named Chu Chu. ❤️ He's got A LOT of character! He's really sweet and funny with a select few, and a barky monster with the rest of society! Chu Chu takes his job as my protector very seriously. I got him from a friend six years ago. The original plan was for me to take care of him until she could find him a forever home. Three months in, I sent the text saying, "soooo, I'm just going to keep him." Haha! Now, I can't imagine my life without him.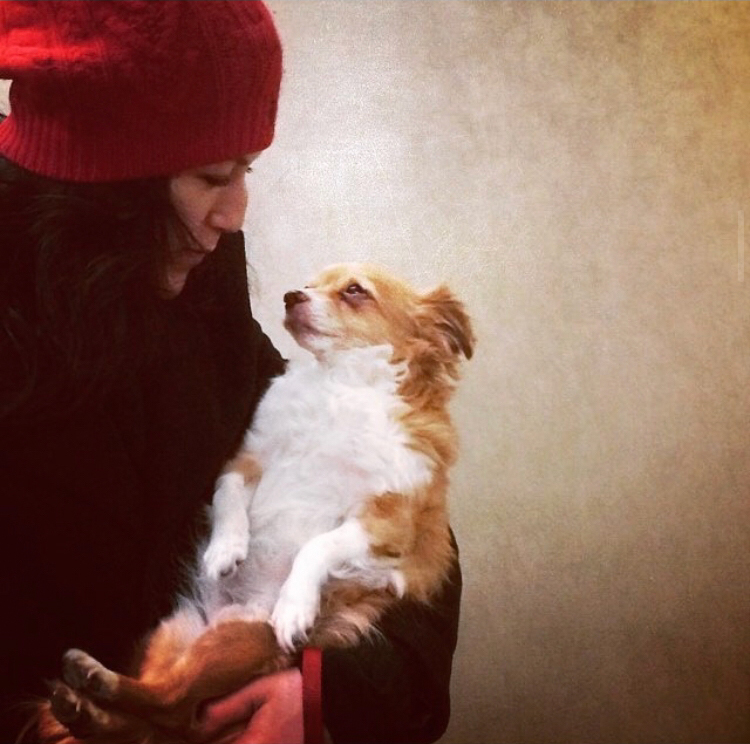 How long have you been a volunteer with PAWS?
I've been volunteering with PAWS since 2011.
What do you do during your volunteer shift? Which clients & pets do you help? What do you do with the pets during your shift?
I was matched up with Arnold and Jade from 2011-2019. During my shifts, I would take Jade for a walk, feed him, give him his pills and eye drops, prepare his food and pills for the coming days, give him a bath if needed, play with him, and chat with Arnold.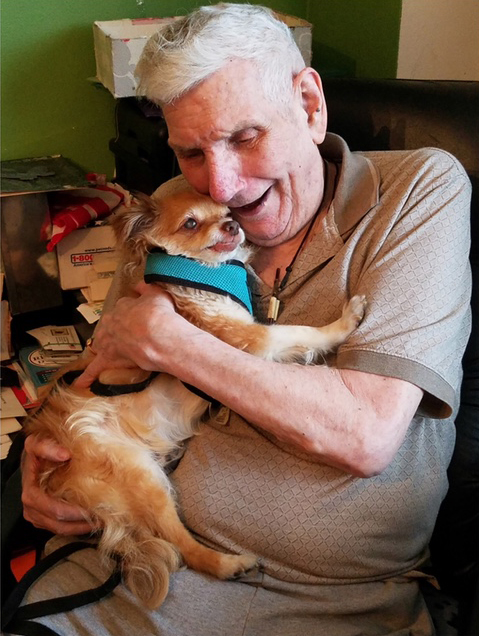 What is your favorite part about volunteering? Do you have any favorite memories?
My favorite part about volunteering was spending time with Jade and hearing Arnold's old stories. Knowing that I was making their days a bit brighter did the same for me. One of my favorite memories was taking Jade out in his little bumble bee costume. He would get so much attention whenever he wore it and definitely loved when people would come over to pet him and tell him how cute he looked. Haha! I also took him to the Blessing of the Animals at St. Paul's once, per Arnold's request. It was so sweet to see all the dogs, cats, birds, bunnies, and more waiting with their humans to be blessed.
Where are you from? Where in the city do you live now?
I grew up in Westchester and now live in Manhattan.
What do you like to do in your spare time (besides volunteer with PAWS NY)?
In my spare time I like to hang out with friends, dance, travel, and eat great food!
Share 1-3 fun facts about yourself!
I'm a professional dancer / choreographer / dance educator. I like to bake and love nature!
---
Thanks so much for your dedication to PAWS NY for 10 years, Joanna! We can't wait to eventually celebrate with you in person soon!