Presenting the PAWS NY Annual Report for FY 2022
PAWS NY is pleased to share its Annual Report for the 2022 fiscal year, ending June 30, 2022. Click here to download the full report.
We consistently appreciate the support and dedication of the amazing PAWS NY community. Your steadfast commitment to our work has helped us to successfully navigate the turmoil brought on by the COVID-19 pandemic. It is inspiring to work alongside you as we strive to help people and their beloved animal companions remain together as families.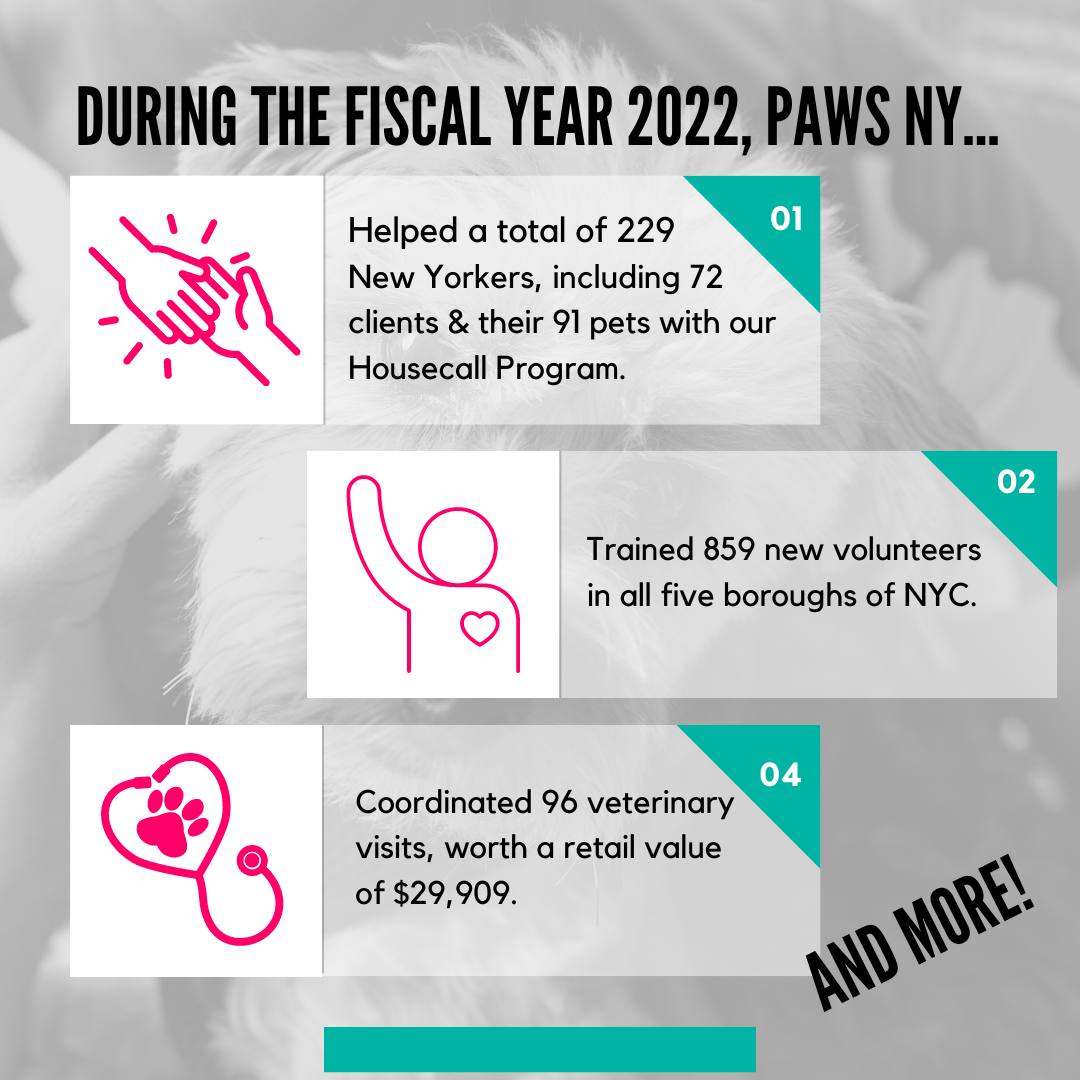 The highlight of the year was the reopening of the PAWS NY Housecall Program, which had been suspended for 18 months. This phased reopening of our cornerstone program began in September 2021, and we implemented new protocols to ensure the safety of all our clients and volunteers. Our team worked diligently throughout the year to bring PAWS NY and our fantastic volunteers back into the homes of those we serve. We are so proud of our staff, clients, and volunteers for helping to ensure this challenging implementation was such a success.
Another accomplishment was the return to an in-person Spring Benefit. We are thrilled to have had the opportunity to come together in person with friends for the first time in more than three years. As we celebrated together with the beautiful NYC skyline as our backdrop, PAWS NY experienced a record-breaking fundraising event, helping us continue to serve New Yorkers and their pets as we move into 2023 and beyond.
On behalf of the staff and board at PAWS NY, we thank each and every one of you for your support and partnership. None of our work would be possible without you and our incredible network, and we are proud of all that has been achieved. You inspire us every day!