COVID-19 Update: September 2020
Six months after the initial shutdowns in New York City, the COVID-19 pandemic is still making an impact on our city and organization.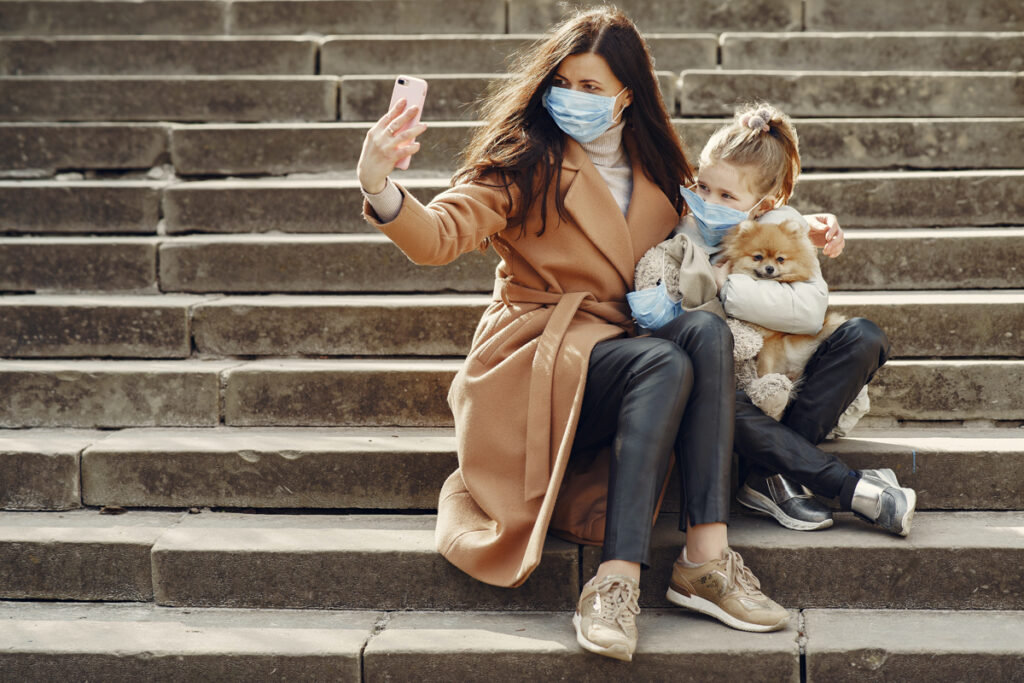 PAWS NY CLIENTS AND PROGRAMS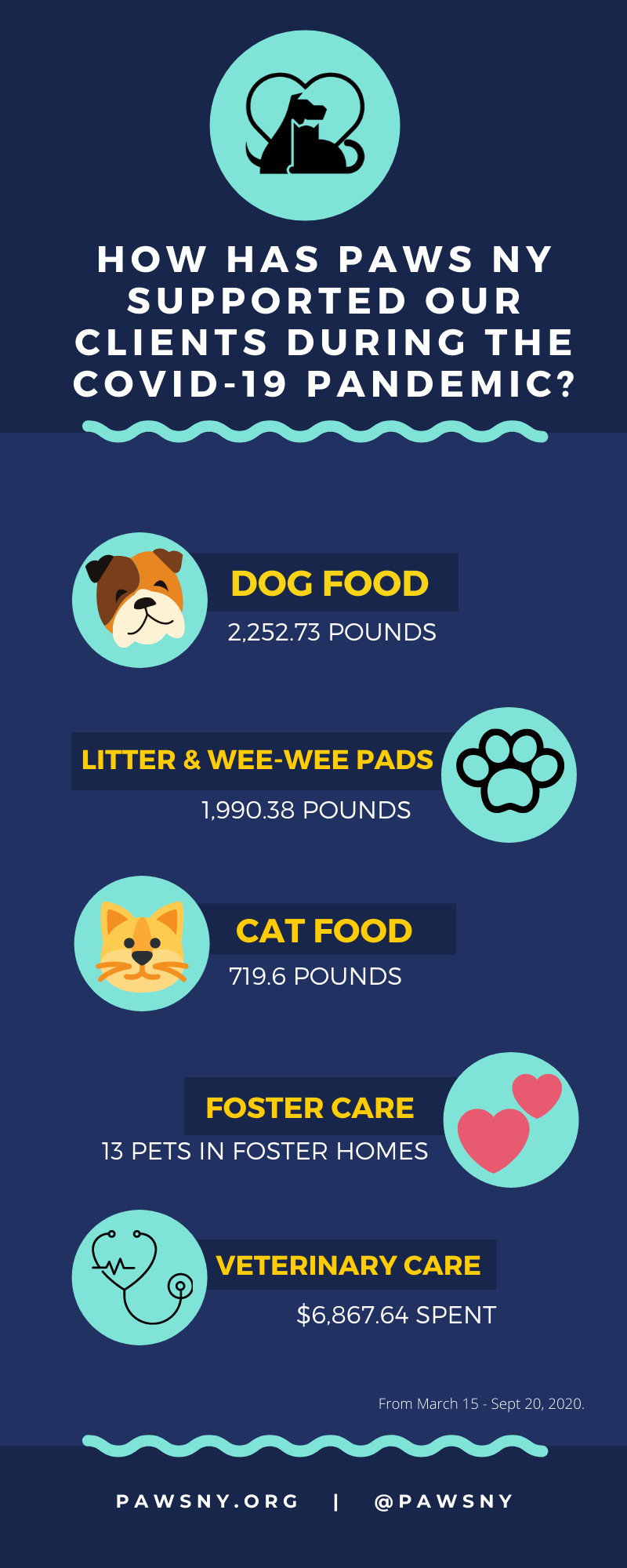 The PAWS NY leadership and Board of Directors are discussing how we can resume our Housecall Program, which was suspended in March. We're working on safety protocols to mitigate risk, while being quite conservative due to the vulnerability of our client demographic. These protocols include requiring clients and volunteers to wear masks, reducing time spent in apartments, providing alcohol-based hand sanitizer, and more.
While plans for the future of our Housecall Program are still being discussed, PAWS NY continues to support our clients through our Pet Pantry, as well as our Veterinary Care and Foster and Emergency Care programs. From March 17 through September 20, PAWS NY spent $13,963.84 on pet food and supplies that were delivered to clients. We facilitated 46 veterinary visits costing $6,867.64. Additionally, we have coordinated foster care for 13 pets, for a total of 728 days of foster care since March.
PAWS NY continues to coordinate Veterinary Care visits, with transportation support from our volunteers, and we will begin distributing food and supplies from the Pet Pantry via in-person visits by volunteers soon.
Click here to read the PAWS NY 2020 Annual Report, which includes more information about our programs and services during the fiscal year ending June 30, 2020.
PAWS NY VOLUNTEERS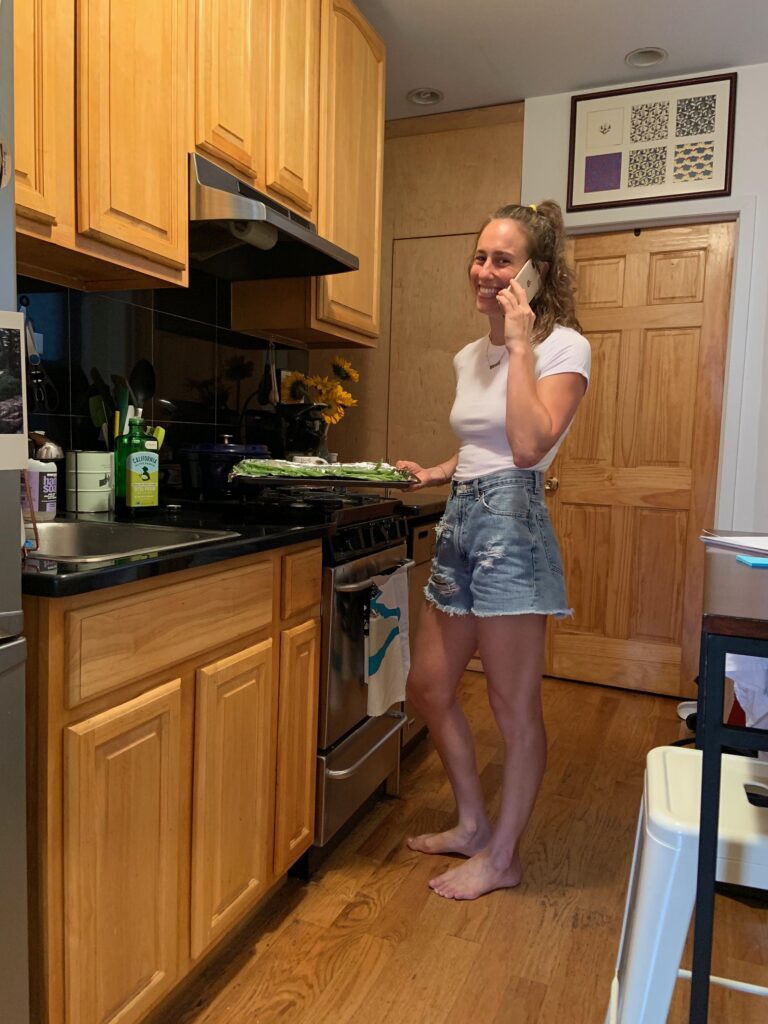 PAWS volunteers demonstrate their commitment to our cause by communicating with clients over the phone, via text, and through letters. More than 150 volunteers reached out to clients during the shutdown, and we have continued to host Virtual Volunteer Orientations. Since May, we have hosted nine Virtual Orientations and trained 104 new volunteers who will be ready when the time comes to re-open the Housecall Program.
Additionally, on September 22, PAWS NY hosted a Volunteer Town Hall to share updates with volunteers and get their thoughts on returning to services. Volunteers, please email [email protected] if you have any additional thoughts, questions, or concerns. Thanks to our amazing volunteers for their ongoing support and for joining the event.
Click here to see upcoming Virtual Volunteer Orientations and to register for a future event.
NYC COVID-19 PET HOTLINE SHUTS DOWN
The NYC COVID-19 Pet Hotline, which debuted on April 20, 2020, was a success for New York City, serving more than 17,000 pets during a five-month period. Due to decreased need, the Hotline shut down on September 30, 2020, as previously planned. PAWS NY was honored to be a part of this important initiative, including supporting several pets impacted by COVID-19 through our Hospital Respite Program.
---
Follow us on social media for ongoing updates related to our programs, COVID-19, and volunteering: Facebook, Twitter, and Instagram!