PAWS NY Presents at Best Friends National Conference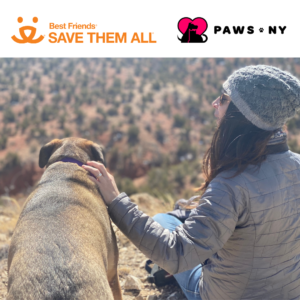 PAWS NY is thrilled to present a workshop session at the annual National Conference of Best Friends Animal Society! Our Deputy Director of Programs and Strategy, Carrie Nydick Finch, will be presenting the session titled "Keeping Families Together: A Holistic Approach," which will take place on Wednesday, June 23 at 4pm ET.
Carrie will outline how PAWS NY keeps families together and protects the Human-Animal Bond by providing comprehensive services focused on quality over quantity. We hope to provide more evidence that surrender prevention and owner retention services result in more pets kept in homes, rather than relinquished to the overburdened shelter system.
PAWS NY Services
Some key aspects of the PAWS NY approach include:
Focus on vulnerable pet guardians' need for wrap-around services
Ongoing support is vital
Partnerships and linkages allow for more thorough service provision
Addressing the mental and physical needs of both client and pet is necessary
The Human-Animal Bond
Carrie will also review the research that confirms the mental, emotional, and physiological benefits of the Human-Animal Bond, including:
Increased socialization
Decreased feelings of depression
Decreased feelings of fear and anxiety, and promotion of calmness
Faster recovery from stressful events
Decreased feelings of loneliness
Lower cortisol levels, lower blood pressure, and increased release of dopamine, serotonin, oxytocin
Improved cardiovascular health
Improved immunity
Fewer doctor visits
(Siegel, 1990; Enders-Slegers, 2000; Allen, et al., 2002; Shiloh, et al., 2003; Charnetski et al. (2004); Headey, et al., 2008; Nagasawa et al., 2008; Odendaal and Meintjes, 2003; Beetz et al., 2012; Levine, et al., 2013; McNicholas, 2014; Mubanga et al., 2017)
Finally, Carrie will present the challenges an organization like PAWS NY may face, as well as opportunities for growth in the future.
If you are interested in attending this workshop, or any of the other varied animal welfare workshops being presented, visit the website for the Best Friends National Conference.