PAWS NY Volunteer Spotlight: Lauren
We're highlighting awesome PAWS NY volunteers in honor of Volunteer Appreciation Week…and next up is Lauren!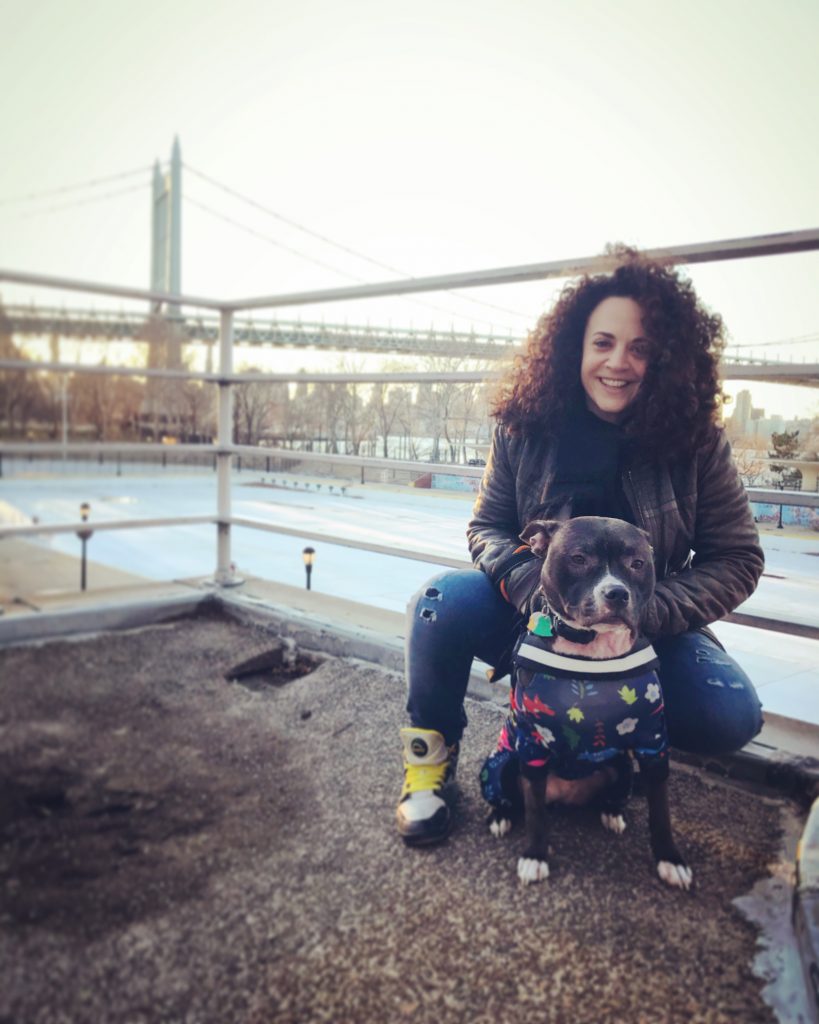 How did you hear about PAWS NY?
I watched a heartwarming NY1 story about PAWS, their clients, volunteers, and outreach.

Why are you passionate about PAWS and our mission of helping people by helping pets?
I am a passionate animal advocate and feel strongly that our animal companions enhance and enrich our lives in more ways than we can quantify.
My goal is to prevent breaking up families by keeping pets safe in their homes with their loving parents. I want to help as many cats, dogs, and pets as I can from entering the overwhelmed shelter system.
Additionally, I never want a life without a furbaby by my side. I hope when I am in my senior years that I will be able to have PAWS help me and my pets stay together furever.

Do you have pets of your own? Or have you in the past? Tell us about them!
I am a mom to a beautiful, smart, funny, and confident 1.5-year-old adopted American Pit Bull Terrier. Her name is Body and she is my first dog. My wife and I rescued her at 8 weeks old from North Shore Animal League the day after our feline furbaby, a 16.5-year-old black cat named Dolce, crossed the rainbow bridge. I rescued Dolce's mother, Lux (aka Momma) from the streets of Washington, D.C., when she was pregnant with Dolce (and two other kittens). Momma was my spirit animal and lived a long life until she too crossed the rainbow bridge at a ripe old age of 15+.

How long have you been a volunteer with PAWS?
July 2019

What do you do during your volunteer shift? Which clients & pets do you help? What do you do with the pets during your shift?
Sara and her 4 dogs: Max, Liza, Dolly, Jimmy
Before I walk into the apartment, the doggos welcome me with a symphony of barks and howls to celebrate my arrival. I walk the boys separately and the girls walk together for their comfort and benefit. We walk the Astoria streets and soak up the sun as their tails wag at the people walking by.
Eileen and her dog: Simba
Simba is a true gentleman, always enthusiastic and ready to take on the world! Don't let his little leggies fool you; he loves a long walk through the neighborhood, smiling at any and everyone who walks by. Simba has a contagious zest for life. I hope he looks forward to our walks as much as I do.
What is your favorite part about volunteering? Do you have any favorite memories?
I love learning all of the quirks and preferences of each dog's personality. I love seeing their excitement when I ring the doorbell and their satisfied, tired little faces at the end of our walks. Mostly I cherish Sara and Eileen's reactions before and after my shifts. Their happiness is my reward.

Where are you from? Where in the city do you live now?
I was born in Manhattan, raised and currently residing in Queens.
What do you like to do in your spare time (besides volunteer with PAWS NY)?
I love long walks with my dog and I love taking her anywhere I can safely let her off-leash and watch her run and play. Outside of my dog, I love to travel, I play pool competitively, I love going to the movies, and I watch tons of TV/original series. I also really love museums, Botanical Gardens, the beach, swimming…really anything I can do outside.

Share 1-3 fun facts about yourself!
I have a green thumb and love (balcony) gardening.
I am a sneaker fanatic and have been collecting since I was a kid
I went to undergrad in Washington, DC, and lived there for many years until moving back to NYC in 2012.
---
Donate to PAWS NY!
We're collecting donations to support our work to help vulnerable New Yorkers and their pets during this unprecedented time and beyond. Click here to donate!
Interested in volunteering with PAWS NY?
We are looking into developing virtual orientations so that we can continue to train volunteers during this difficult time. If interested, please sign up for a regular Volunteer Orientation and we will be in touch with more information when we have it.