PAWS NY Volunteer Spotlight: Mary
Wrap up Volunteer Appreciation Week with this cute story from PAWS NY volunteer Mary.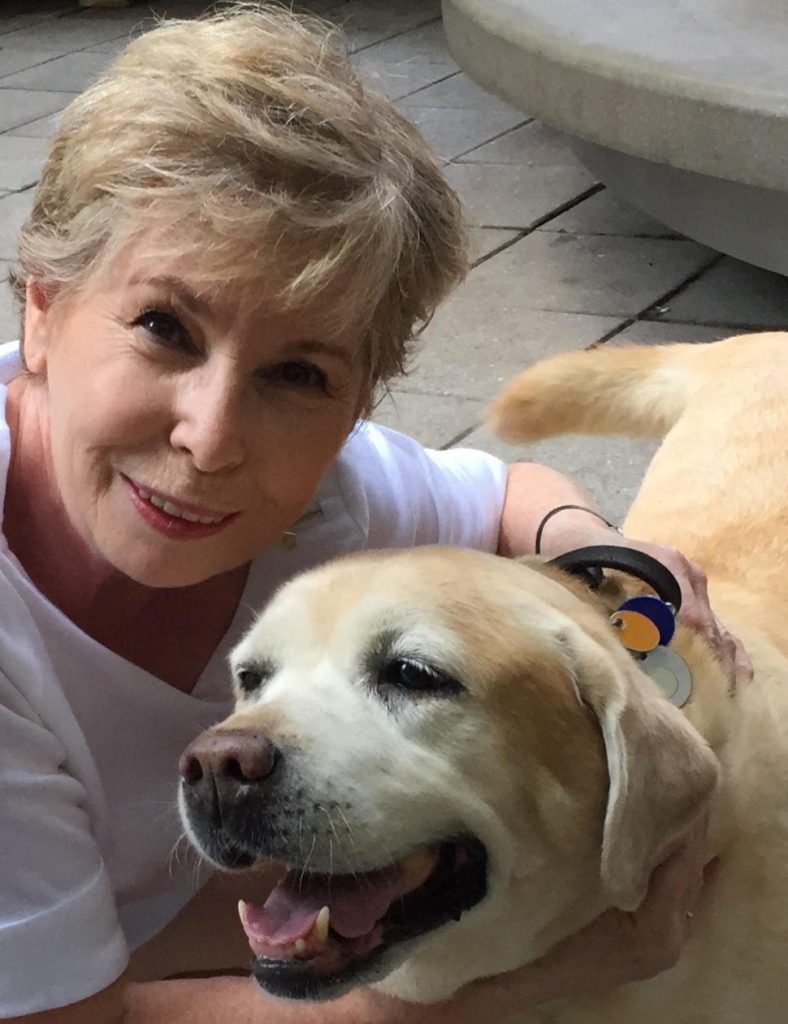 How did you hear about PAWS NY? Why are you passionate about PAWS and our mission of helping people by helping pets?
For many years, I had the pleasure of walking Polly, my neighbor's seeing eye dog. Polly was everything you would want to be: popular, pretty, sweet, smart and kind hearted. Polly made friends everywhere she went, but one special friendship was with Colleen. Although Colleen didn't actually have a dog (she has two cats), she told me that she was a volunteer with this wonderful organization called PAWS.
Unfortunately, my beloved Polly passed away and I didn't see much of Colleen or my other dog walking friends. Recently, I decided to attend an orientation at PAWS and signed up to walk Lexus, a sweet dog with a wonderful owner. It may be hard to believe, but it turns out that one of Lexus' team members happened to be Colleen!!
I have no doubt that, somewhere in Dog Heaven, Polly is smiling down at us, happy to know that Colleen and I have been reunited again by yet another darling dog.
As a volunteer, I really hoped to do good for someone else, but it turns out that I'm the one that has benefited the most. My life has been so enriched by this experience. I am so very grateful to be part of such an amazing and inspiring organization.
Do you have pets of your own? Or have you in the past? Tell us about them!
I just adopted a sweet but wary cat named Brie who had lived at Bideawee for more than two years!!
How long have you been a volunteer with PAWS?
I started volunteering with PAWS in November of 2019.
What do you do during your volunteer shift? Which clients & pets do you help? What do you do with the pets during your shift?
In addition to my help with Lexus, who sadly passed away recently, I also walk Jango, who is a firecracker. Both Jango and his owner have also brought a great deal of joy into my life.
What is your favorite part about volunteering? Do you have any favorite memories?
It's hard to say what my favorite parts of volunteering are as there are so many including: being part of an organization that does such amazing work; getting to know and care about our clients and their adorable animals; being able to help people in need as well as actually physically walking a dog and being able to explore a new neighborhood.
One day I was walking my charge and we ran into another team member. It was amazing to see how excited my dog and my teammate were to see each other. It was so touching to see the deep bond that they had obviously developed.
Where are you from? Where in the city do you live now?
I am originally from Massachusetts. I live on the west side of Manhattan.
What do you like to do in your spare time (besides volunteer with PAWS NY)?
In my spare time, I enjoy going to all forms of the performing arts, I love to travel and I love biking on the Hudson River.
Share 1-3 fun facts about yourself!
I initially moved to New York City to pursue my career as a dancer and choreographer. I retired from dance many years ago and my current career involves investigating medical malpractice.
---
Donate to PAWS NY!
We're collecting donations to support our work to help vulnerable New Yorkers and their pets during this unprecedented time and beyond. Click here to donate!
Interested in volunteering with PAWS NY like Mary?
We are looking into developing virtual orientations so that we can continue to train volunteers during this difficult time. If interested, please sign up for a regular Volunteer Orientation and we will be in touch with more information when we have it.