PAWS NY Volunteer Spotlight: Suchita
Get to know Suchita, who has been a volunteer with PAWS NY since July 2019. A major animal lover, Suchita has fostered several dogs through PAWS, in addition to her work through the Housecall Program, and she adopted her own pup, Sasha, last year. She even has a tattoo of paw-prints on her wrist!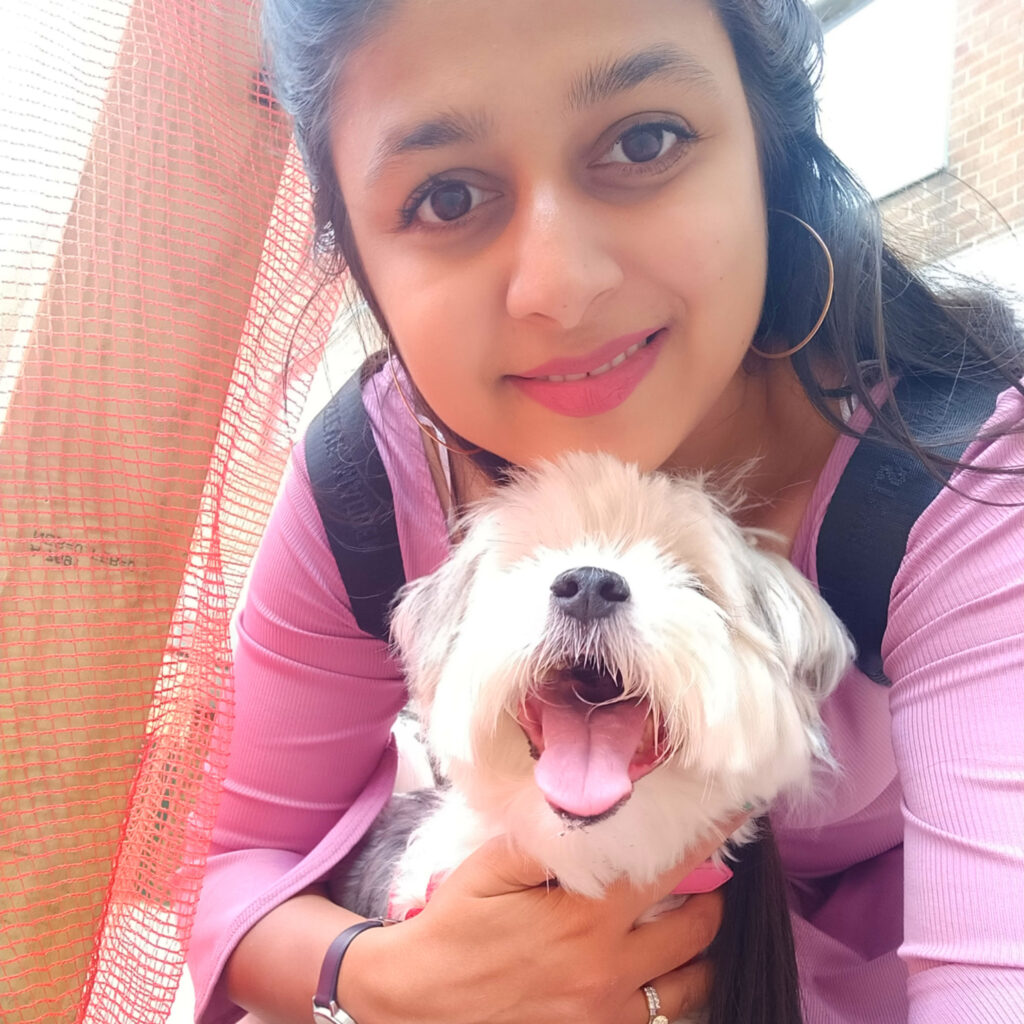 Originally from India, Suchita now lives in New Jersey and has walked several PAWS NY pups, including Miley and Coco. "I love spending time with dogs, but the fact that I am also helping out a person in need is the cherry on the top!" she said. "I love the clients and their dogs; visiting them literally makes my day so much better."
Learn more about Suchita in her Q&A below, where you can read her favorite PAWS NY memories and more!
---
Why are you passionate about PAWS and our mission of helping people by helping pets?
I love spending time with dogs, and the fact that I am also helping out a person in need is the cherry on the top! I love the clients and their dogs; visiting them literally makes my day so much better!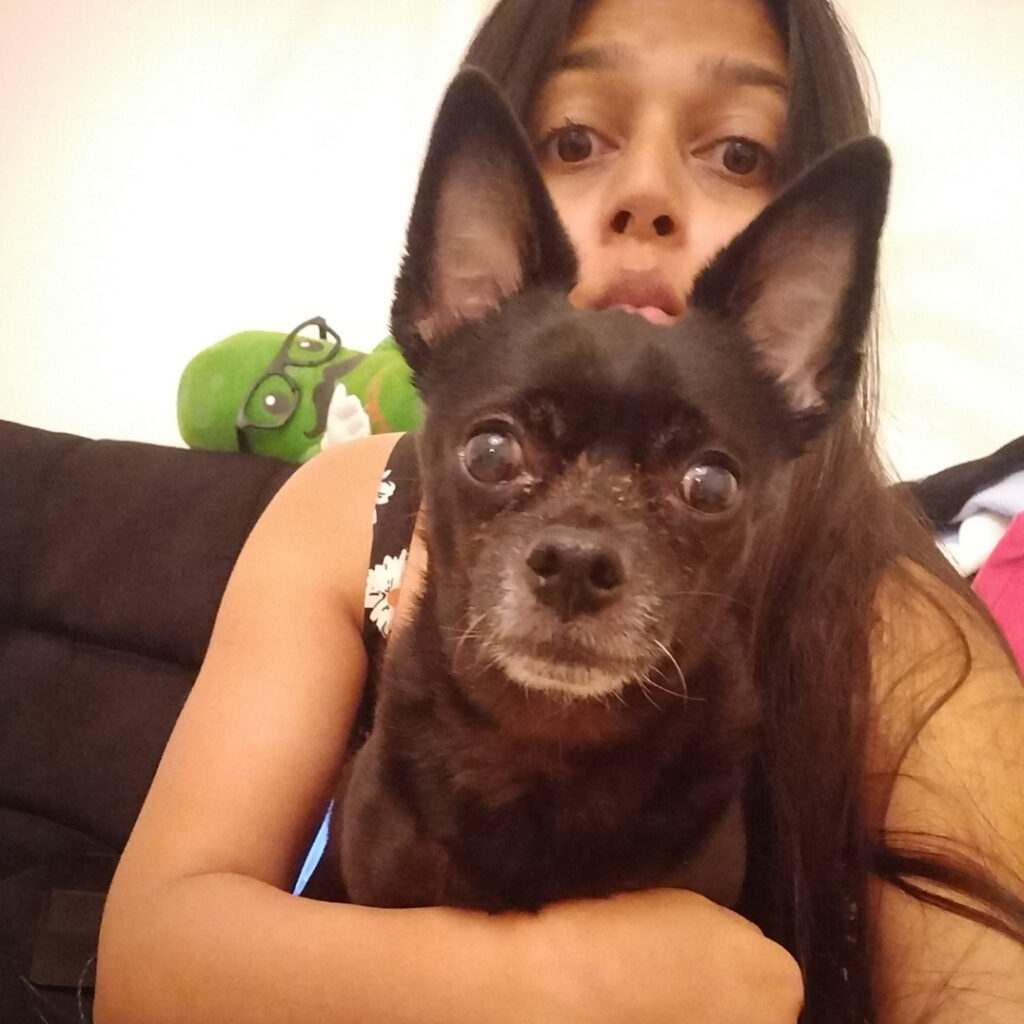 Do you have pets of your own? Or have you in the past? Tell us about them!
I have had pets all my life. Starting in 2019, I began fostering dogs and I have fostered six dogs, two of which were through PAWS NY. In July, I adopted a Pomeranian from Korea and I am in love with her. Her name is Sasha and she is 4 years old. She was abandoned by her last owner in a kennel, but now she is living her best life here with us! 🙂
How long have you been a volunteer with PAWS?
1 year & 5 months
What do you do during your volunteer shift? Which clients & pets do you help? What do you do with the pets during your shift?
I had two clients through the Housecall Program, before it went on hold due to COVID-19, and I would walk their dogs.
Vivian & Miley – Miley is an 11-year-old Shih-Tzu and I would walk her on Wednesdays and Fridays. Both Vivian and Miley are very sweet! I sometimes end up talking to Vivian for an hour! She always greets me by calling me beautiful and offers me a soda or water. <3
Jerry & Coco – Coco is an 8-year-old rescue Chihuahua and I would walk her on Fridays. Jerry is a very friendly person and we always stay in touch through texting. Coco is a very cute pup; I absolutely love her.
Also, I fostered Frenchie for three weeks, when Lorraine was in rehab. He was our first foster and he's such a special dog to me. I miss him so much whenever I look at his pictures!
I also fostered Midnight for a week or so. He is my husband's favortie dog. He's a Chihuahua, who was adopted by Jess, and I've stayed in touch with her and Midnight since then!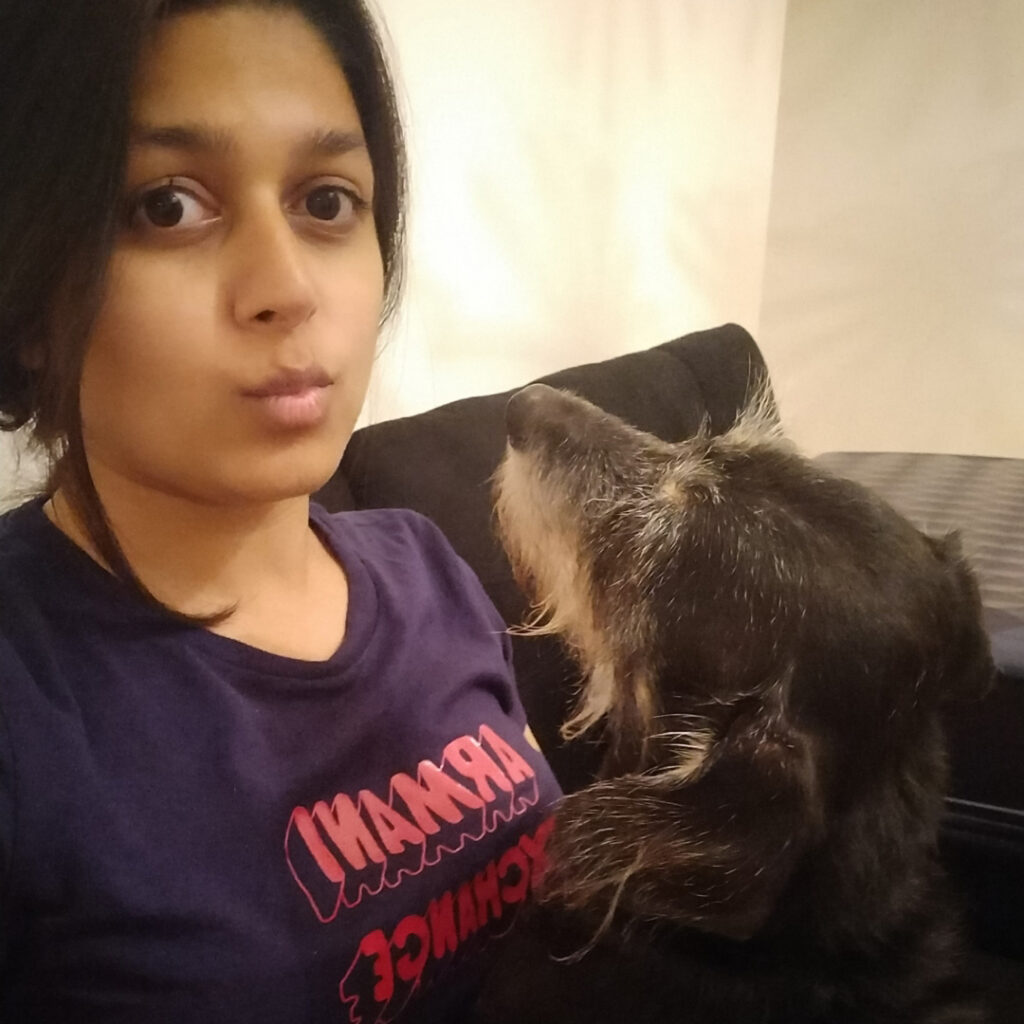 What is your favorite part about volunteering? Do you have any favorite memories?
My favorite part is the way the clients greet me. I can see how much they value me, and it honestly makes me feel so great!
One of my favorite memories…it was a Wednesday when I found out my Grandpa passed away. He lived in India and I couldn't even visit him, so I was a mess. I still went to my shift to visit with Vivian and walk Miley, and it instantly made me feel better. I didn't tell Vivian because I didn't want her to worry, but just being with them comforted me. Another memory was visiting Vivian on Christmas, and it was also wonderful.
Where are you from? Where in the city do you live now?
I am originally from India and now I live in Weehawken, New Jersey.
What do you like to do in your spare time (besides volunteer with PAWS NY)?
I volunteer with two other organizations, and it just makes me feel like I am making a difference. Being around dogs is my favorite way to spend my time. Also, I travel a lot, read and watch Netflix, sometimes go hiking and biking, but I mostly spend time with my husband and pup.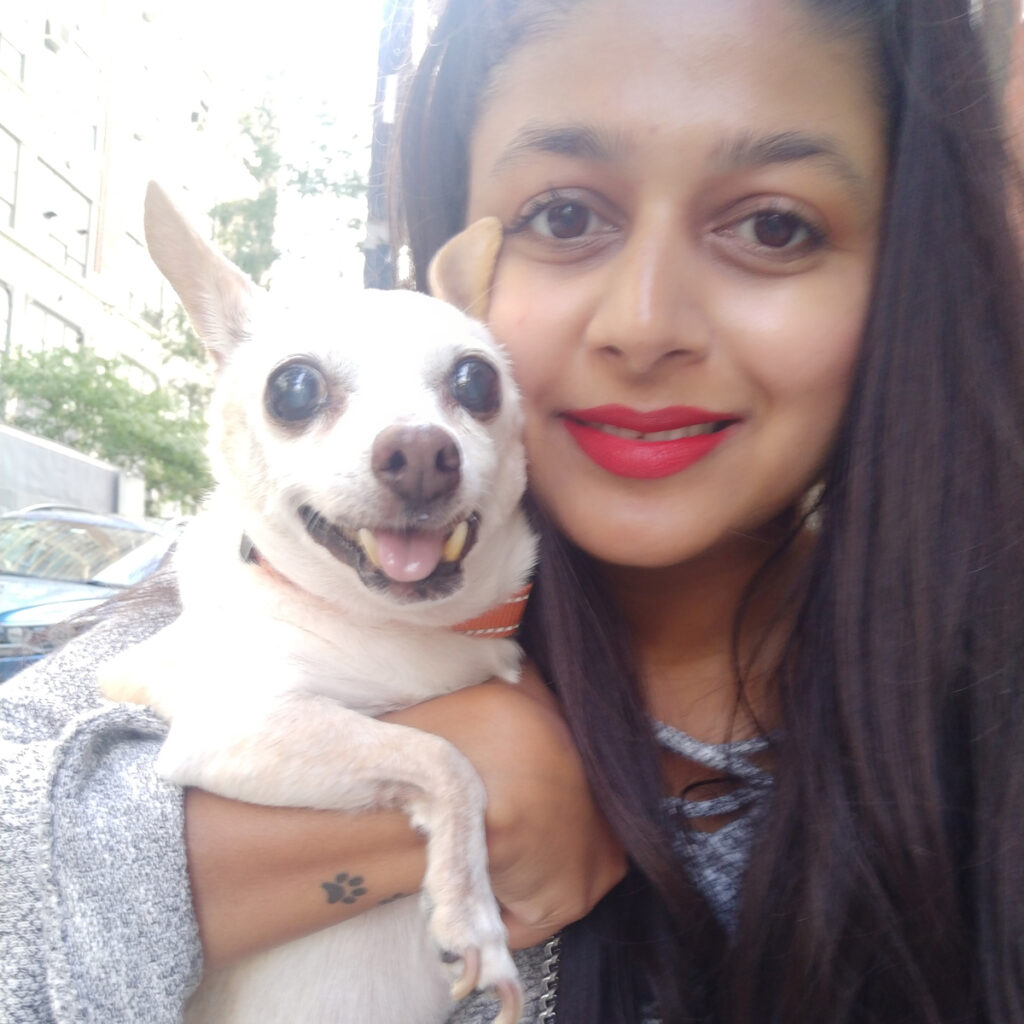 Share 1-3 fun facts about yourself!
I can use my hair as a scarf because it is 3'6" long!
When I was a kid (actually, it's still true now), I used to make friends with people only if they liked dogs.
I have a tattoo of PAWS on my wrist! How apt is that!?
---
Suchita – thank you for your commitment to PAWS NY! Read our other volunteer spotlights here or sign up for our next Volunteer Orientation here.